Have been featured on KSL.Com
As "Concrete Artists" we get the opportunity to do a variety of fun and exciting applications that are new and innovative for each individual property that we work on. This gives Concrete Design Systems the green-light to create what we believe would make a customer's surroundings enhanced and beautified beyond what the owners thought possible!
This concrete patio is over 50-years old and had indoor-outdoor carpet on it. The old worn out carpet had to removed, along with the adhesive that was used to glue the carpet down. The quickest and most efficient way to remove this stubborn adhesive is to use a 7″ angle grinder with a 24-segmented diamond turbo cup wheel. After the grinding off of the glue the concrete surface is then pressure cleaned with a high 4200 psi cold water pressure cleaning machine to remove all the residue of concrete dust and any other weak spots that may be present in the concrete surface. Once that is completed the surface is now ready for the polymer modified cement application. White portland cement mixed with silica sand, lime and water mixed to consistency – along with the colored base ( Saltillo Yellow in this case ). After the textured overlay mixture is applied it is left to dry overnight. Then, the Cherokee color stain is applied with a pump sprayer and flooded over the area. The Stonehenge highlight is also applied simultaneously, along with the Cherokee base color, and is placed in a random distribution, giving the surface a natural rock and stone look.
Here's one of those projects that takes concrete designing to another level!
About Us
Utah Concrete Design Systems
Founded in 1993, Concrete Design Systems, has been one of Utah's innovative leaders in the concrete design & concrete repair industry for almost 3 decades.
Concrete designs have evolved with the times over the last 27 + years and we have been in front of the curve and set the bar high since our inception. Whether we've stamped a patio, pool deck, front entry, balcony, driveway, or any other concrete surface,we have a wide variety of decorative and functional projects that we have completed. Concrete Design Systems will work with you to design that beautiful living space that will last for years and years and require very little maintenance. CDS's attention to detail has resulted in countless satisfied customers over the years. If your concrete is in poor condition and beyond salvage, we will remove and replace it, adding a beautiful and aesthetic value to your home or business immediately.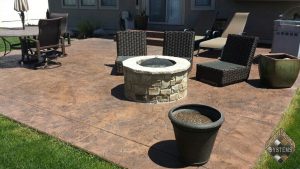 Whether it's a newly designed front entrance or patio, Concrete Design Systems professional concrete team will design your concrete  to stand out above all the others and be a perfect fit just for you. Have a boring garage floor? We will design a high end, durable, and beautiful polyaspartic floor that will last for years. Concrete Design Systems clients are known to have the most beautiful concrete throughout the Salt Lake City Valley. So learn about us at Concrete Design Systems when you need a concrete contractor, Salt Lake City, and give us a call at (801) 376-5143 to set up your free Design Estimate.
Big or small, we handle them all. Call today and lets talk about your concrete job.