About Us
Utah Concrete Design Systems
Founded in 1993, Concrete Design Systems, has been one of Utah's innovative leaders in the concrete design & concrete repair industry for almost 3 decades.
Concrete designs have evolved with the times over the last 24 + years and we have been in front of the curve and set the bar high since our inception. Whether we've stamped a patio, pool deck, front entry, balcony, driveway, or any other concrete surface,we have a wide variety of decorative and functional projects that we have completed. Concrete Design Systems will work with you to design that beautiful living space that will last for years and years and require very little maintenance. CDS's attention to detail has resulted in countless satisfied customers over the years. If your concrete is in poor condition and beyond salvage, we will remove and replace it, adding a beautiful and aesthetic value to your home or business immediately.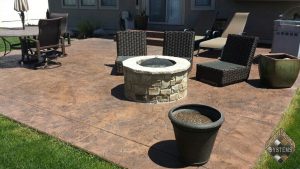 Whether it's a newly designed front entrance or patio, Concrete Design Systems professional concrete team will design your concrete  to stand out above all the others and be a perfect fit just for you. Have a boring garage floor? We will design a high end, durable, and beautiful polyaspartic floor that will last for years. Concrete Design Systems clients are known to have the most beautiful concrete throughout the Salt Lake City Valley. So learn about us at Concrete Design Systems when you need a concrete contractor, Salt Lake City, and give us a call at (801) 376-5143 to set up your free Design Estimate.
Big or small, we handle them all. Call today and lets talk about your concrete job.